Plan i program
Predavanja
Laboratorijske vežbe
Literatura
Stari ispitni rokovi
Inženjerski aspekti generisanja slike korišćenjem magnetske rezonanse
Engineering aspects of magnetic resonance imaging
(19M071IAG - 6 kredita)
Novosti:
Zbog postojeće epidemiološke situacije nastava se realizuje na daljinu preko MS Teams platforme MRI MS Teams link.

Prvi, informativni, čas održaće se u petak, 4. marta 2022. godine, sa početkom u 18:15, preko MS Teams platforme.



Registrovan patent: US Patent #11,313,929 B2

"Slotted waveguide array RF coil for magnetic resonance systems"

Registrovan patent: US Patent #10,473,736 B2

"Subject-Loaded Helical-Antenna Radio-Frequency Coil for Magnetic Resonance Imaging"


Teme za praktičan rad i završne radove iz oblasti
Magnetic Resonance Imaging (MRI):

"Slotted-waveguide array radio frequency coil for ultra-high-field magnetic resonance imaging," Concepts in Magnetic Resonance, 2018.



Opis predmeta:
Upoznavanje sa osnovnim inženjerskim problemima u generisanju slike korišćenjem magnetske rezonanse (Magnetic Resonance Imaging - MRI). Osnovni fizički koncepti nuklearne magnetske rezonanse i generisanja slike. Magnetske osobine materijala. Magnetizacija, relaksacija i Blohova jednačina. Statičko magnetsko polje uređaja. Kružno polarisano RF magnetsko polje. Osnovni kalemovi. Gradijentni kalemovi. Antene-eksajteri RF magnetskog polja. Pobudni signali i kodne sekvence. Generisanje slika. Angiografija.
Fond časova: 2+2+0
[1] R. W. Brown, Y-C, Cheng, E. M. Haacke, M. R. Thompson, and R. Venkatesan, Magnetic Resonance Imaging - Physical Principles and Sequence Design, 2nd ed., New Jersey, Wiley Blackwell, 2014.
Plan i program predmeta. (PDF)
Course Description in English. (PDF)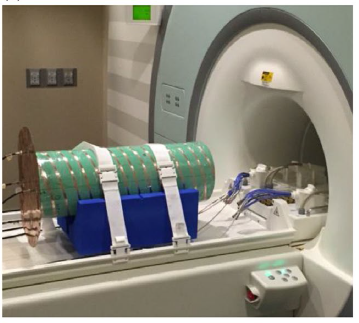 Multichanel Helices in MRI